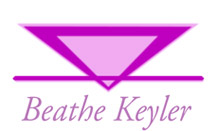 Bergensartisten Beathe Keyler er moden og uredd i sin fremføring. Hun lager musikk innen Blues, Soul og Rock genren, men også Jazz og Poplåter. Du vil oppleve henne som artisten du lidenskapelig lever deg inn i melodiene sammen med!

B. Keyler er blitt sammenlignet med blues dronningen Bonnie Raitt, KT Tunstall, Rory Blocks, Joan Baes, Joni Mitchell og blitt kalt "en kvinnelig Van Morrison!" og "En moderne Janis Joplin!"av musikkjournalister og publikum.


SEE BEATHE KEYLER LIVE MUSIC VIDEOS
on Youtube.com/beathekeyler
B. Keyler love to play live, so let her know if you have some booking requests!



CDèr selges her! Use the secure PAY PAL-payment!

GET THE CD/EP "OCEAN" FOR FREE WHEN YOU ORDER ALL 3 CDs/ALBUMS BY B.KEYLER


MUSIKK TIL MOBILEN!
Send kodeord MOM KEYLER
Til 1933
for å få musikk til mobilen din.


CONTACT INFORMATION:
Medea Records B. Kuchler Dyngelandsv. 96
N-5226 Nesttun - Bergen
Norway
Org.Nr: 888027092

Mobil/Cell phone: 0047-99252777

| | |
| --- | --- |
| | |
| | |